Our support of bilingual preschool education in Guatemala began in 2003 through a meaningful and long-standing collaboration with Oneness, which is now Planting Seeds International.
We initially provided educational supplies for a bilingual early childhood preschool facility in Antigua, as well as a day care at a weaver's cooperative in the remote mountain Mayan village of Sacalá. This cooperative allowed widowed Mayan women to sustain themselves economically and socially.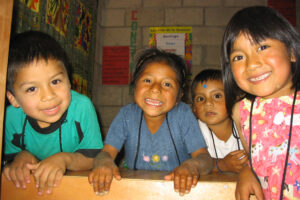 In 2004, we also assisted with the establishment (furniture and supplies) of two early childhood development classrooms at the Camino Seguro (Safe Passage) homework and resource centre located near the dump in Guatemala City. Through the work of Oneness, these classrooms provided a comprehensive, creative and colourful educational alternative for children, whom along with their parents, had previously harvested the dump for survival. The access to 'learning through play' that these children now experience has been very uplifting. These projects in Guatemala are powerful demonstrations of children benefiting from the educational initiatives to which they are entitled.
Between 2005 and 2007, we extended our partnership with Oneness by assisting with the development and opening of a preschool in the mountain village of Tioxya and the joint construction of an early intervention centre beside the dump in Guatemala City. We helped equip four pre-school classrooms so that the young children who usually harvested the dump alongside their parents, could have a safe, clean and stimulating educational alternative. We also had the opportunity in 2006 to be part of a service team, led by our partner organization, Oneness, which travelled to Guatemala to build a new 120 space preschool for children of families living near, and earning a living from the Guatemala City garbage dump. Our support also included all the furniture (tables, chairs, learning centers, play structures, cupboards) and resource materials (paper, pencils, craft supplies, toys) for six classrooms and a multi-purpose room.
The following years saw ACCESO International continue its support of three pre-schools in the remote mountain Mayan villages of Sacalá, Tioxya and Xenacojal. More recently, we supported the reconstruction of a pre-school in the remote Sacala village and a girls' empowerment program in Guatemala City.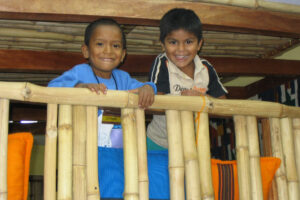 We are honoured and humbled to have been collaborating with Oneness and Planting Seeds International because the projects emphasize children's rights to education, play, and to racial and gender equality through child-centered learning opportunities that prioritize and respect Indigenous cultural traditions and languages.
All of our preschools operate under the idea of education with love. Our preschools are play based where children are in charge of their own learning. We believe that learning must be fun, that parents need to be supported as the primary educators of their kids and that community members must be involved and in charge of their own development.

The consistent support from ACCESO International has allowed us to develop sustainable educational programs in Guatemala. Most recently, ACCESO helped us construct a new school for our students in Sacala as well as support a new girls empowerment program in Guatemala City aimed at providing young girls with skills, knowledge and a support circle.

Mac Philips – Co-Executive Director of Planting Seeds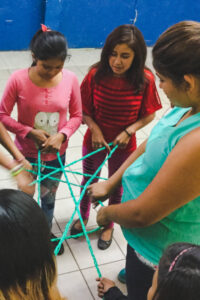 To me, my students are very important and, here at the "Garden of Angels" we are preparing the future leaders of my community and I want to educate them with the same love I was taught when I was a child so they can achieve everything they set for their lives.

Norma Atz – Teacher at Sacalá Preschool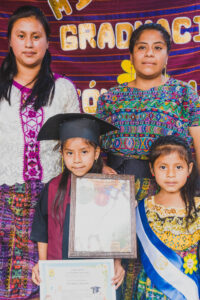 I have learned so many things, but what's most important is that GoGirls! helps me make better decisions and Break Dance helps me to find my rhythm and, I like it because when I find my rhythm, I can be myself.

Yasmin Wong – GoGirls! and BreakDance Participant for 4 years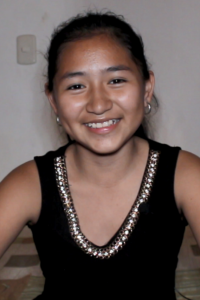 Go girls provides a safe space where the girls can express themselves freely, learn new skills and have fun with their friends while they're at it … The new friendships that have developed in the group over the years is one of the most positive and beautiful outcomes that I've seen.

Shannon Moyle – Co-Executive Director of Planting Seeds